With only a week left before we begin our dream of cycling around the world we are both getting pretty pumped to begin our next adventure. And getting to meet our new touring bikes!!
It took me several months of scouring the internet and umming and ahhing over the pros and cons of dozens of different bikes. I contacted shops in Australia (where we were living). The U.K (where we are now). And, Canada (where the trip begins), and finally I found our new best friends!
We decided it made more sense to buy the bikes in Vancouver so we didn't have to transport them from overseas. We got extremely lucky finding a bike shop willing to let us purchase and store the bikes until we arrived*. As they were last years models we even got the price heavily reduced. And, because we bought them from outside Canada, we don't have to pay tax until we leave the country. So we grabbed some absolute bargains!*
We decided, as we are riding around the world for an indefinite amount of time, it would be wise to invest in some chromoly steel framed beauties.
So, without further ado I give you our new two wheeled freedom machines. Our new touring bikes!
Ideally, we would have liked to have bought the same model bikes so we could carry the same spare parts for both bikes and have the same setup. But, we scored an amazing deal! It just so happened that the bike shop had 1 small frame left for Kelly (she's fun sized) in the Norco. And, 1 XL left for me (I'm a long legged freak) in the Brodie.
Kelly's Norco Search S3 is a total monster! It should handle roads and dirt tracks like a champ! We will be swapping the handlebar stem out for something allowing Kelly a more upright riding position for long days in the saddle. It will take her a bit of time getting used to the drop handlebar setup and STI gear shifters. Ultimately I think they will be better than the hybrid flat bar style we are used. The choice of hand position is much greater and the integrated braking / gear shifting will make life easier.
My Brodie Circuit is a classic style tourer with bar end shifters. There is plenty of braze ons for racks and/ or extra bottle cages. It also has a nice long frame to help avoid heel strike on the rear panniers and should be good for carrying plenty of weight! I'm also going to need to get used to the drop bars as I've only ever ridden with flat bars. It's definitely going to take me some time coming to grips with the bar end shifters. In the long run, it should be better!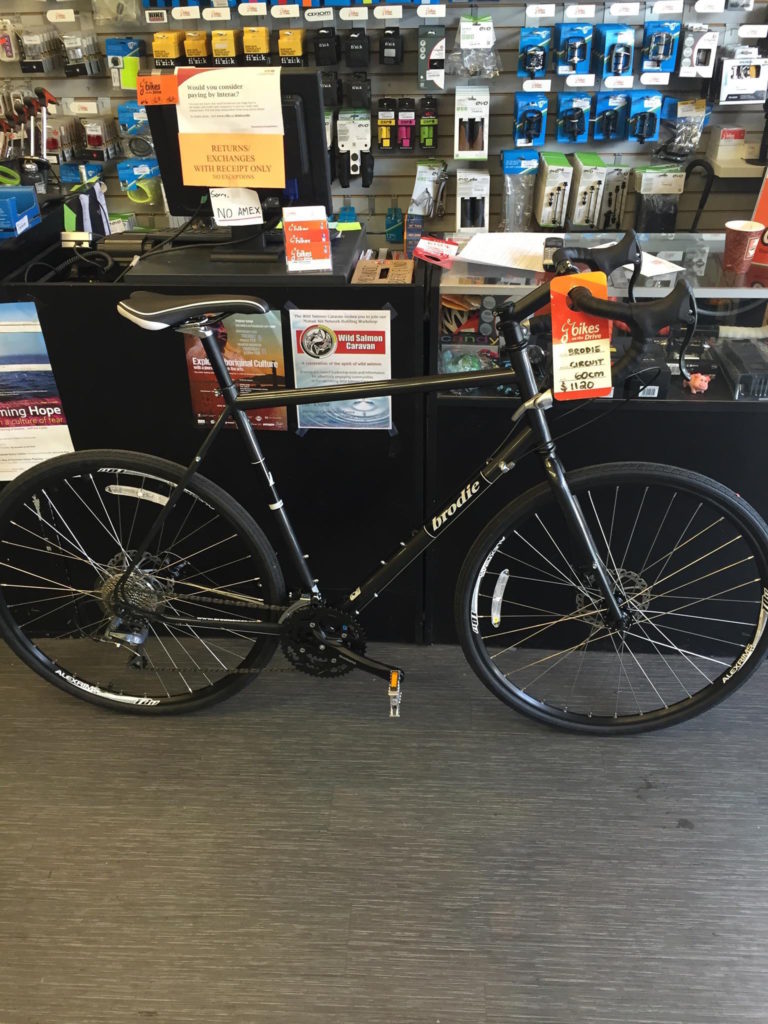 So there we have it, our new metal children!! A couple of sexy touring bikes! I can't wait to finally meet them, hop on their backs and explore the world together!!!!
** Update **
*The Norco Search S3 proved not to be up to long distant cycle touring. It had less gears and less gear range, which meant it couldn't handle hills. It was also a lot weaker than the Brodie bike, so was having issues with all the weight on the back. The Norco was exchanged for a 2016 Brodie Circuit on day 2 of the cycle trip. We also had a lot of issues with the bike store that we dealt with in Vancouver, and would not recommend Bikes on the Drive to others. There are plenty of other good places in Vancouver to purchase touring bikes.