Article updated: 29th June 2020
Having the appropriate travel insurance for cycle touring is essential! It gives you peace of mind in case something happens, and ensures you won't end up forking out unnecessary money.
I know a lot of people take the risk and don't buy travel insurance. Personally, I think that's insane! I used to work as a travel consultant and I've heard MANY horror stories related to not being covered.
The horror stories were from people that were on holiday or travelling, when something bad happened, and they either weren't covered or weren't covered for the activities they were doing. It always ended up costing them. So it's important to not only have travel insurance, but to make sure you are sufficiently covered for the activities you plan on doing.
A few things to consider when choosing Travel Insurance for Cycle Touring:
Does the policy cover your bicycle?
I've discovered that most travel insurance policies won't cover bicycle thief! Actually, I have not found one policy (for Australians) that does. Most policies also won't cover damages to your bike. Most will however cover damages or thief to bicycle accessories (panniers, phone mounts etc.). It's important to check and be aware of this. It's better to know up front than think you're covered just to find out later you're not.
Does the insurance company cover long-term cycle touring?
This is something I always confirm directly with the insurance company, as it's not always listed on the 'included activities' section of the policy. Some insurance policies may only cover cycle touring on roads or paths (ie. not mountain bike trails/ bikepacking). Or only cover cycle touring if it's not the main activity taking place (ie. it's not more than X% of the trip).
Other insurance companies may not cover cycle touring at all or it might be considered to be an additional extra or 'extreme activity'. Make sure you get confirmation directly from the provider before purchasing your travel insurance for cycle touring.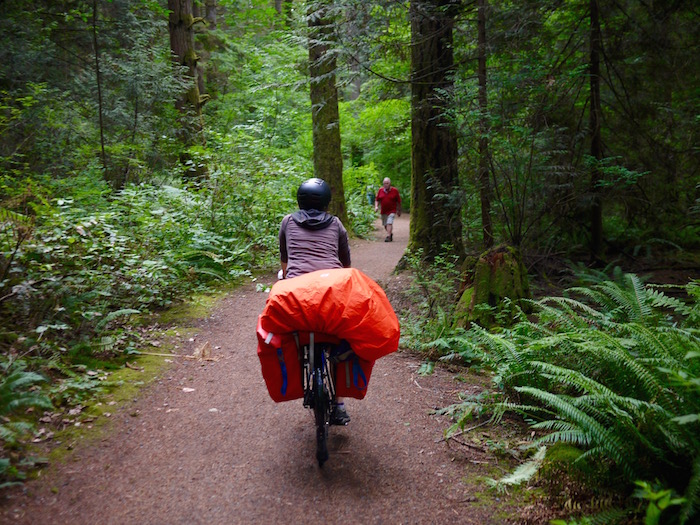 And, what are the conditions?
You will usually find that the insurance provider will only cover you for cycle touring if you are following the country's rules and regulations. For example, if it's law to wear a helmet, then you must be wearing a helmet to be covered. Or, if you legally can't cycle on a specific road, then you won't be covered if you cycle on that road.
It's important to familiarise yourself with the country's cycling rules. And if you do break some laws (face it, we all do at some point), then be mindful that you might not be covered if something was to happen.
How long do you plan to be cycling for? Will the policy cover you for the entire duration? Or will you need to renew you policy each year?
Most insurance companies only provide insurance policies for a maximum of one year. If you plan on cycling for longer than that, then it's important to check:
1) Whether the policy can be extend.
2) Whether you can purchase or extend a new policy while travelling.
A lot of policies cannot be extended, which means purchasing a new policy. However, some policies have to be purchased while you are in your home country, before the start of your trip.
It's also worth checking whether your travel insurance policy will become void if you decide to visit home during your trip.
Also, make sure the policy isn't a multi-trip policy, as these policies are annual policies that only cover you for travel that is up to specific time period (ie. 60 or 90 days) at a time. After that you have to return home for the policy to still be valid. That said, if you plan to take a few shorter cycle tours throughout the year, where you return home in between trips, then a multi-trip policy might actually work best for you.
I can almost hear some of you ask, "How will the insurance company find out if I wasn't wearing my helmet, or that I went home for a couple of weeks?" The truth is, they might not find out unless they request specific documents that contradicts your story or if something happens to you while you are breaking one of the policy conditions. It's whether you want to take that risk or not. If you are forking out all that money for travel insurance, then you probably want to be covered.
Will my insurance cover COVID-19?
Unless you purchased your travel insurance prior to mid-March, then it's highly unlikely. I've not come across a policy that will provide you with cover for any loss or event related to the coronavirus (COVID-19) – this includes cancellations, disruptions and restrictions resulting from COVID-19. That said, don't let that prevent you from purchasing travel insurance, as there are plenty of other things that will be covered.
This is one reason why it's so important to purchase travel insurance as soon as you start booking anything for your trip. Travel insurance doesn't just cover you for your trip, it covers you leading up to your trip as well. If you purchased your travel insurance prior to mid-March then you may have been covered for any cancellations to your flights in say, April.
A few other things to consider:
Are you travelling solo, or as a group, a family or a couple? Sometimes it's cheaper to buy a policy that covers you as a group, couple of family, instead of individually.
What countries are you visiting? Different countries usually cost different amounts to cover. Make sure you're covered for all the countries you plan on visiting.
What's your nationality? You nationality will affect the policy, even if it's the same insurance provider. For example, World Nomad's policy for British nationals covers completely different activities than World Nomad's policy for Australians.
If you are unsure about anything, confirm in writing with the insurance provider.
When choosing my insurance provider and policy, I always email the insurance company to confirm my inclusions and anything I'm unsure about. I actually did this once, and was told I was covered for something. It turned out I wasn't, however because I wrote the to insurance company and had in writing that I was covered. They honoured the claim and paid me out. This experience was with World Nomads Insurance Company.
However, boring it is, I also recommend reading through the policy and comparing a few different policy options before choosing your travel insurance for cycle touring. Just like choosing your touring bike – picking an insurance policy is an investment, and it does take some time and research to get it right.
Our Experience with Travel Insurance for Cycle Touring
We used World Nomads Travel Insurance for our France to China trip, and DUInsure (which is actually part of the Alliance group) for our cycle trip across Canada. I've made claims under both policies and overall had a good experience with both insurance companies. However, I did find World Nomad's system much more user friendly and less complicated for submitting claims online.
The overall process with World Nomad's was also a lot quicker, and I got paid out within days. Opposed to DUInsure where I had to wait weeks. I found DUInsure was slightly cheaper for travel in Canada and the USA, which is why I changed insurance companies for the Canada trip. However I think I will be changing back to World Nomads if we were to do long term trip again in future.
Feel free to get in touch if you have any questions about my experience with either of these insurance companies or anything else insurance related.
We would also love to hear from you if you've used either of these insurance companies and want to share your experience. Likewise, if you have any other tips for picking travel insurance for cycle touring.
If you enjoyed this article on choosing travel insurance for cycle touring, then you might also enjoy our article on Accommodation Options for Cycle Tourists.