There are plenty of different accommodation options for cycle tourists when on tour. One huge decision factor will be budget. Another will be your chosen destination and route, and what is actually available.
This article is going to explore some of the accommodation options for cycle tourists. These options might not be for everyone, but they are certainly available to everyone. Personally, I like to mix it up. When I'm on tour I primarily camp, however at least once or twice a week I will treat myself to one of these other options.
So, here is our list of Accommodation Options for Cycle Tourists
Hotels
Hotels are awesome – the ultimate luxury while cycle touring. They are available all over the world. They usually have hot showers, comfortable beds, wifi, sometimes even breakfast. Everything you dream off while spending the day slugging up a 13% gradient in a cold, wet head wind.
One downside to staying in hotels is the cost! Spending every night in a hotel can be expensive, especially if you're cycling through Europe or North America. But, even if you're on a shoestring cycle budget, you should definitely treat yourself once in a while. One thing I discovered about cycle touring is that it makes you appreciate small luxuries. You will definitely appreciate the luxuries of a hotel more while on tour.
Another downside to staying in hotels is availability. Perhaps you're cycling across the Gibson Desert in Australia. Your hotel options will be few and far between – even more reason to treat yourself once you make it into a city.
I recently discovered Wego search engine, which is a great tool for searching for the best value hotels, wherever you are in the world. It's a comparison search engine, which means it searches several different sites including booking.com (one of my personal favourites – get $25AUD of free credit here), hotels (book 10 nights and get 1 free) and LateRooms. It's great for giving you plenty of options and finding the best price for a particular hotel. If you're also looking for flights, it even has a flight search engine.
Airbnb
Airbnb is next on our list of accommodation options for cycle tourists. If you're not familiar with Airbnb, it is an accommodation site, which allows locals to rent out their spare room or apartment for a couple of nights. Airbnb is still relatively new, but the number of hosts is constantly on the increase.
I've found Airbnb to be a great budget option. You can also find places that give you access to a kitchen, laundry facilities and somewhere to store or lock your bike – things that might be a little difficult to find in a hotel.
One downside I've found with Airbnb is that you can't secure a booking instantly. You request a booking; it then has to be approved. This means if you're looking for accommodation for that night, you may not hear back in time. Generally if I were looking for a same day booking, I would look at a different option. It is however a great option if you have set dates planned in a particular location. Another downside to Airbnb is that like hotels, they aren't available everywhere. I've also found the fees on Airbnb to be a bit high – however, the overall price tends to be lower, so usually it is still a cheaper accommodation option.
Get $45AUD or your currencies equivalent by signing up here.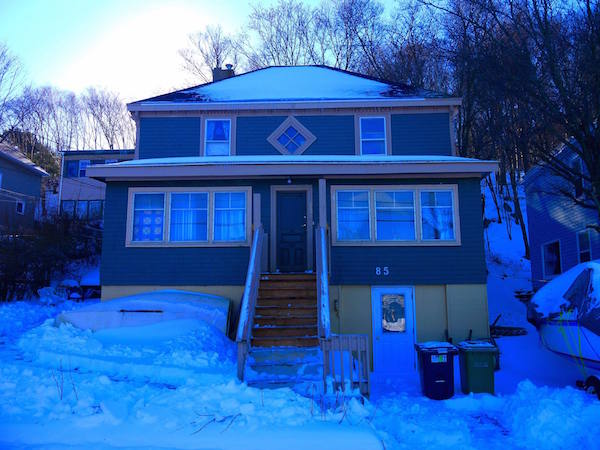 Hostels
Staying in a hostel is a great way to meet people. Most hostels also offer access to a kitchen, laundry and common area. If you are travelling solo, then staying in a dorm room might also be a good budget option. If you are not travelling solo, then it can sometimes work out more expensive staying in a dorm room. Splitting the cost of a hotel room or Airbnb, could work out much cheaper, so make sure you check all your options.
Warmshowers
If you have not heard of the Warmshowers community, then check it out now. It's an awesome source of information and a great way to get in touch with other cyclists.
Staying with a warmshowers host is great! They understand what it is like cycle touring. They know how you are feeling, what you need, what you want. It's also a great way to get involved in the cycle community. You don't always have the opportunity to meet other cyclists when on tour, however, warmshowers gives you that opportunity. The great thing about Warmshowers' is that it tends to attract a similar type of person, so you will usually find you share a lot of common interests with your host or guest.
It's also good practice to offer to host cyclists when you're not cycling and able to.
Couchsurfing
Couchsurfing is similar to Warmshowers, however it is designed with all travellers in mind, not just cyclists. It's a great way to meet locals and I've always had a very positive experience and met some amazing people.
I've found that a lot of cyclists turn their nose up to Couchsurfing. The community tends to get a bad rap due to the popularity of it, and sadly there are a lot of people that have abused it and given it this reputation. You are also less likely to meet people that understand cycle touring. This means it can be a little difficult explain that you may arrive a day early or late, that it's hard to give an exact time and that you need somewhere to store or lock your bike.
With that being sad, I've explaining this, I've never had an issue. And, generally I've found couchsurfers' to be very interested in learning about cycle touring. Another reason I've heard from cyclists that don't like couchsurfing, is that with warmshowers, you know the type of person you will host or stay with. Warmshowers tends to attract the same 'type' of person. However, couchsurfing, you could end up with anyone. I guess it's more of a gamble
One major plus to Couchsurfing being so popular, is that it means that you're more likely to find a host in some obscure locations. It is also more common than Warmshowers' in countries such as Mexico and Turkey.
Like warmshowers, when I'm not cycling and able to, I will offer to host other travellers. I think of it as a type of karma. Paying it back, or paying it forward – however, you want to look at it.
Official Campsites
Staying in official campsite definitely has its bonuses. It is usually cheaper than a hotel, Airbnb or hostel, especially if you aren't cycling solo and can split the cost with others. You can set up camp whenever you like, and usually there are hot showers, a picnic area, toilets and a shelter.
There are two types of official campsites; primitive campsites and full service campsites. Primitive campsites might not have showers and usually have limited services. Full service campsites have everything – sometimes even wifi.
The biggest downside to staying at official campsites is that they aren't popular in every country. If you're cycling through Turkey, Iran, Central Asia or South East Asia then official campsites are rare. Also, if you're cycling solo through a country like Canada, then depending on the location it can sometimes even be cheaper to stay in a hostel than an official campsite.
Wild Camping
Also known as Stealth Camping, Free Camping, and Feral Camping.
Wild camping is last on our list of accommodation options for cycle tourists. It involves pitching your tent on unoccupied or crown land. There are usually limited services available (no toilet, running water, showers, bins etc.) In some cases there are designated primitive camping spots, which might have access to drinking water. I've also camped at picnic/ rest sites that have access to some services.
In some cases, wild camping might be your only option. It is also a great way to save a bit of cash and keep within your budget. However, if you do wild camp make sure you leave no trace. Pack out your rubbish, respect any fire bans, and don't disturb the nature. In many cases wild camping has become illegal due to people not respecting these rules – this is the case for many wild camping spots around my hometown, Perth.
Wild camping definitely comes with its risks. If you're camping illegally then you could be moved on in the middle of the night, or worse you could end up with a big fine. I always check whether there is any "no camping" signs before I set up camp. If I'm camping in a town or village, then I ask locals whether they can recommend a wild camping spot. If I want to camp on private land, then I ask the owner. Private land doesn't have to just be someone's garden or field; it could be a visitor center, shop or gas station. Whatever it is, I ask first.
[ctt template="8″ link="s4W9i" via="yes" ]Remember when you are cycle touring you are representing the cycle touring community. Don't be a jerk! @CycleTrekkers[/ctt]
My wild camping rules usually include, keeping out of site, being within a reasonable distance from the main road, asking permission (if required) and most importantly, listening to my gut. If you sense something isn't right, then don't camp there – this actually saved us well cycle touring in eastern Turkey.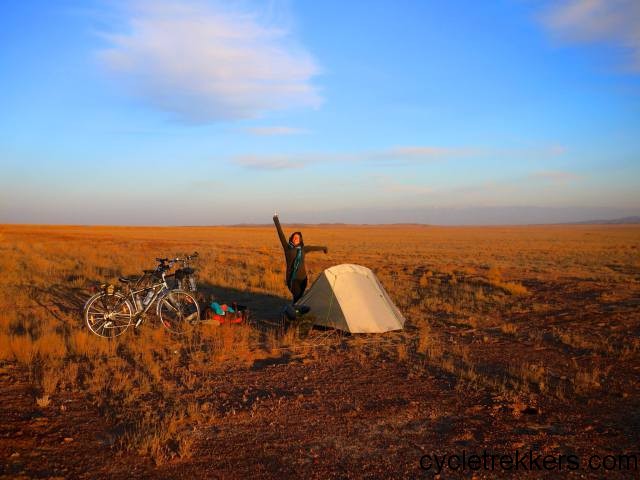 Other than the risks and lack of services, another downside to wild camping is it's not possible to wild camp everywhere. Wild camping in touristic places and in cities is usually not possible, or not safe. This is when some of the other options might come in hand. Wild camping also requires you to wait until the evening before setting up camp, where as staying in an official campsite means you can set up whenever you like.
That's our list of accommodation options for cycle tourists. What's your preferred accommodation option while on tour?
If you enjoyed these cycle touring tips on Accommodation Options for Cycle Tourists, then you might also enjoy our article on 10 secrets to cycle touring.