GALLEN LEATHER 'CROSS BAR BAG' AND 'LARGE SADDLE BAG'
SPECS:
(Cross bar bag)
Top 9.84" (25cm) Bottom 7.87" (20cm) Height 4.7" (12cm)
(Large saddlebag)
4" x 8" (10cm x 20cm)
Distance between straps 3.54" (9cm)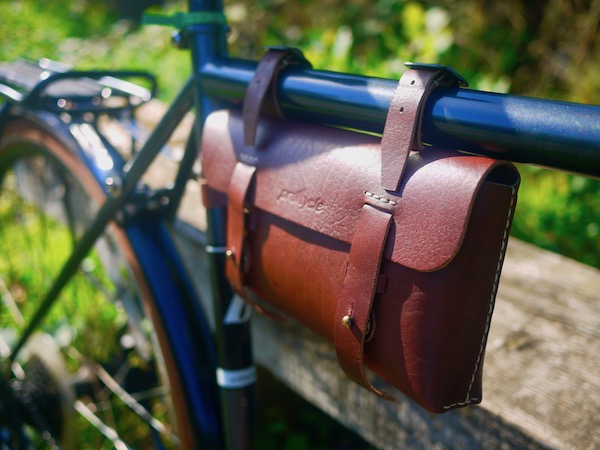 PROS:
Stylish on a city bike or classic touring bike
Leather is extremely durable and long lasting
Looks great if you have a brooks saddle!
Very high quality stitching
Simple opening / closure and easy to attach and take off
Thick strong material protects contents of bags
Can be wiped clean and won't stain
Large enough to fit tools, tubes, plus most importantly…snacks!
The saddle bag can also be used as a handle bar bag if preferred and depending on your bikes frame size the cross bar bag could be mounted towards front of bike or as pictured near the seat tube
CONS:
Much like Brooks leather saddles probably shouldn't be left in the rain too long
Stylish to the point that they might actually be a target for thieves in a city
Possibility that they could swing when loaded with heavy items
Maybe not my first choice for a long term round the world type tour, but would be great on multi day trips or commuting
OVERVIEW:
I was asked to review the Galen Leather 'Cross Bar Bag' and 'Large saddle bag' and have spent several weeks putting it to the test commuting and doing some long rides in and around the lovely city of Bristol in England.
I was very keen for these bags to arrive as I had just swapped out my Schwalbe marathon tyres after 1500km + for some new funky looking Brown Schwalbe delta cruisers and thought the colours would match and look pretty sweet especially with my brooks saddle. Yes I am a bit of a sad case and like colour coordinating my bike!
The Gallen Leather Bicycle Bags are hand stitched in Turkey, which is also a bonus to me being one of my favourite countries and a definite contender for my favourite country to cycle tour in!
I was not disappointed; the bags look fantastic and completely gave my bike a cool makeover, plus the quality is superb and adds some easy to access storage space for trips around the city.
DESIGN AND FUNCTIONALITY:
Both bags have been designed very well with the straps being long enough to wrap around a variety of tube sizes without being too long that they get in the way or rub against your legs when pedaling.
The size is also ample on both the bags and can easily accommodate a spare tube, multi tool and snacks. The Cross Bar bag is also designed with one straight end and one angled end that gives it an interesting quirky look. Two straps secure the bag to the top tube with a third on the side to attach around the downtube to stop it swinging side to side too much.
There's definitely no danger of the bags opening on a ride as the straps are secured through a leather loop and a belt like button closure to keep all your goodies safe.
I was very happy to discover the Saddle Bag straps lined up perfectly with the loops on my brooks saddle so attached neatly and sat just right. I can see that possibly the bag could bounce around a little if loaded with heavy items, but as it's only a small bag and will likely be holding light items like a tube and multitool it probably wouldn't be an issue.
DURABILITY:
The most impressive part of the Galen Leather bags is definitely the quality and solid feel of them. The hand stitching is impeccable and looks like it would last a lifetime if cared for properly. The Galen Leather Bicycle bags are also treated with natural oils and beeswax to add an extra layer of protection against the elements.
Obviously only having rode with them for a couple of weeks I can't really comment on how durable they are long term, but the leather is thick enough that I feel it would be very hard to damage these bags and they will most probably take quite a beating and come out fine.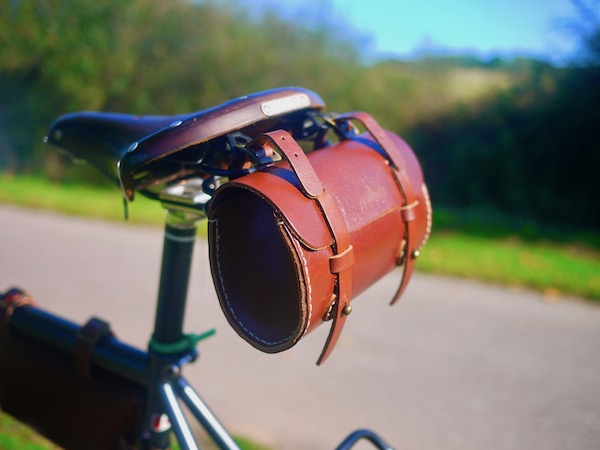 The straps are made from leather the same thickness as the bag and are wide enough that I doubt they will ever tear or the holes stretch too badly which could be a worry on a thinner strip of leather.
SUMMARY:
So Far I have been very happy with the Galen bags and love the touch of class they bring to my slightly beat up touring bike. They definitely turn a few heads commuting around town, but more than just being pretty they do their job perfectly, stashing extra stuff for when I'm out and about around town but don't necessarily want to take a pannier along for the ride.
I can quite easily fit enough snacks for a solid days riding in the Galen Cross Bar bag while stuffing patches, inner tube, a multitool and my brooks seat cover in the Large saddle bag.
I've been happy enough with the bags and am confident enough in the quality of them that I'm planning on trying them out on Kelly's mountain bike on our next bikepacking trip as the cross bar bag should just squeeze into her small bike frame and give her some quick easy access to essentials.
Beautifully crafted, eye catching and gets the job done!
Enjoyed this gear review? Check out a few other gear reviews.