Michael's write up of discovering New Brunswick by bicycle during out coast to coast Canada cycle trip in Autumn 2016. Click here to read Kelly's write up about cycling in New Brunswick.
NEW BRUNSWICK.…WAY BETTER THAN THE OLD ONE.
Waking up at the border sign between Quebec and New Brunswick we knew our seventh province was going to be a frosty one!
The temperature had taken a sudden dip and frozen our tent solid overnight. We were now faced with the coldest cycling of the trip so far, but we were still happy because the amazing cycle path rolled on!
On our first day discovering New Brunswick by bicycle we managed to smash out 105 km in less than 5 hours, which I'm pretty sure is a record for us. We had decided to stay indoors and treat ourselves to an airbnb in Perth (not our home town in western Australia, a different colder one) and thought we'd make it in plenty of time to meet the owner and pick up the key to the place. That's before the wind decided to be a huge chilly prick and change directions and the cycle path abruptly ended with a 'closed for construction' sign forcing us to detour several kilometers up a bullshit steep hill and onto the highway.
Screw you New-Brunswick-bike-path-dudes. A diversion sign BEFORE the construction would have been handy!
We did eventually make it the last 20km to the AirBnB where we spent the next day defrosting our weary bones and ingesting some local hoppy malt health beverages called 'beer' and cleaning all our clothes ready to layer up for the next day of icey biking.
The bike path did pick up again and although it wasn't quite as well maintained as the Quebec side with some sections too rocky to ride fully loaded, it was still nicer than riding the highway!
We had a pretty great day of discovering New Brunswick by bicycle. Riding on the cycle paths, winding through the forest and alongside rivers and lakes where we eventually found an ideal spot to pitch the tent next to a pedestrian suspension bridge over a stream complete with picnic table and amazing sunset views. This one was definitely up there with the best wild camping spots of the trip.
The only bonus of camping when the temperature drops is the mosquitoes pussy out and disappear! Finally some peace!
[ctt template="8″ link="p6x55″ via="yes" nofollow="yes"]The only bonus of camping when the temperature drops is the mosquitoes pussy out and disappear! [/ctt]
Bike Troubles
We ploughed on keen to reach Fundy national Park and see one of Canada's main attractions, the Bay of Fundy. We rode the cycle path where possible, and took quieter roads when the rocks got too chunky. Near Fredericton, we stayed with great Warmshowers hosts, Tracey and Paula on their veggie farm. And, cycled passed the worlds' biggest axe in Nackawic (and a brewery named after it that was closed causing me to weep uncontrollably). Then, my chain decided to start slipping whenever faced with a hill nearly causing me to fall off and break my luscious face several times.
Fundy national park is an extremely hilly place, so luckily for me the chain problems occurred before the town of Sussex so I could get the problem fixed at the local bike shop before starting the serious hill climbs into Fundy. The legends at Outdoor Elements bike shop helped me get back on the road again and even called up one of their friends outside Sussex who owned an awesome motel and let us stay for $20! Unfortunately on the way to the motel I discovered the new chain hadn't fixed the issue and I was forced to ride back to Sussex the next morning where the amazing staff changed my cassette and solved the issue just in time to tackle the beastly hills of Fundy!
As well as fixing up my sexy steed, the guys at the bike shop also informed me we were only one day behind a group of German cycle tourists who had been in the shop the day before. Our friends Jacque and Luisa again with some of Luisa's' friends who had flown out to ride with them for a week or two. We were hunting ze Germans!
Bay of Fundy
As we had heard, the hills into Fundy were a total bitch! It was all worth it though with the views at the top ranking as some of those most spectacular of the whole trip. The ride down the other side of the hills was an intense experience and made me glad our bikes had disc brakes! We absolutely hammered down the hills and into the picture perfect campgrounds just outside the town of Alma. Unfortunately it wasn't until we picked up on Wi-Fi at the camp grounds that we realized our German buddies were staying at the other campsite. The one that was several kilometers back up the steep as shit hill we had just hurtled down at 300km an hour. Sorry guys, you're on you own!
[ctt template="8″ link="84Hlf" via="yes" nofollow="yes"]The hills into Fundy were a total bitch![/ctt]
We managed to meet up with our friends though for beers and cinnamon buns from the famous 'Kelly's Bakery' in Alma. If you are in Alma and don't fill your body with as many of these hot gooey delicious cinnamony chunks of pure joy then you my friend are a fool! The date slices and brownies were also pretty sextacular, but the cinnamon buns were like a baked orgasm.
We enjoyed a couple nights off the bikes relaxing at the Headquarters campground that was complete with Wi-Fi and cooking hut – pure luxury! We hiked a few trails around the bay, checked out some waterfalls and rehydrated with beer and fireball liqueur. I was on a bit of a cinnamon high around this period.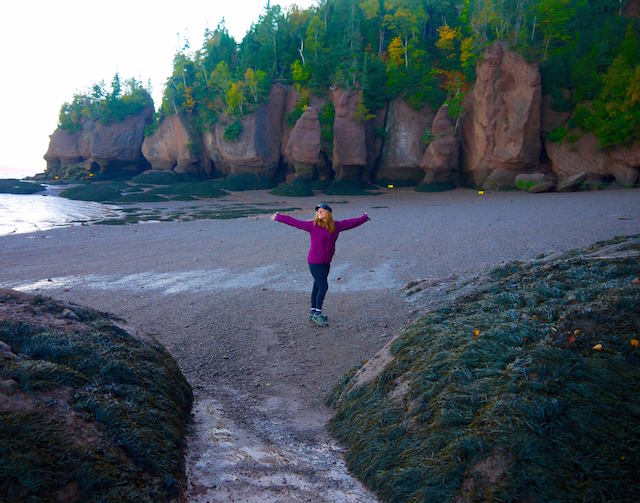 Hopewell Rocks and more beer!
When it was time to leave Alma the wind kicked into overdrive and we were smashed in the face by the breeze the whole way to Hopewell rocks where we were living it up in another motel. We decided to be rebels and sneak into Hopewell rocks after the gates were closed for the day after several people told us it was generally accepted as fine as long as you weren't an idiot climbing the rocks. We had an amazing sunset stroll along the beach checking out the crazy rock formations and stunning beach views. I can definitely see why this is such a hotbed for tourists in the summer.
We rolled through the freezing wind and drizzle into Moncton where we decided to spend the night in a hostel. It just so happens that Moncton has a kick ass brewery too…coincidence? No, no it wasn't.
We checked out Pump house brewery and sampled some fine beverages including the local specialty a blueberry ale complete with floating blueberries in the glass. Saucy!
More friendly people
Our last night discovering New Brunswick by bicycle – Province number 7, was spent with an lovely older couple Bill and Marilyn in Shemogue, There we ate like royalty and I fit at least a kilo of kick ass spinach and mushroom lasagna inside me and exchanged cycle tales over beers and discussed our plans for spending winter in Halifax.
Bill had been a lobster fisherman for over forty years. Marilyn was an artist and showed us her beautiful art in her workshop out the back of the house. Eventually we hopped on our bikes and began the short pedal to the bridge between New Brunswick and, the smallest province in Canada – Prince Edward Island!
Goodbye New Brunswick you tasty minx. You chilled us to the bones, but your stunning parks and coastline made us keen to explore more of the Maritimes by bicycle!
That sums up discovering new brunswick by bicycle! Bring on Prince Edward Island! If you're a stats nerd like Kelly, you can check out our states here.