Beautiful Croatia
Croatia on a bike was supposed to be our 'rest' time. It didn't quite turn out that way. We arrived into Split very early on a Friday morning, and there were people everywhere. It was supposed to still be the low season. If we were in Split in the low season, I never want to see it in the high season. A beautiful port city, but full of cruise ships and day-trippers, and it seemed that they arrived by the hundred. It was not the easiest place to cycle, and we ended up just pushing the bikes through the crowds. We only spent the day in Split, and then caught the afternoon ferry to Stari Grad on Hvar Island.
Unfortunately, wild camping in Croatia is strictly illegal, and it's not uncommon for police to issue on the spot fines of 150-900 euro for wild camping. For that reason we decided it safer to stay at official camping sites. Only a small set back to exploring Croatia on a bike.
Island hopping
We had planned to stay at a campground in Stari Grad, however when we arrived, we discovered the entire campground had been abandoned. This was the only campground in Stari Grad. We decided to cycle 10km to Jelsa, in the hope that the campground there would be open. We arrived at Kamp Mina, an absolutely amazing campsite. For about 6 Euro each we got to pitch our tent right on the coast, with amazing views, plus hot showers.
It was great to not have to worry about water, toilets, or being asked to move on. We decided to stay here for 3 nights so we could explore some of the island on our bikes without having the panniers attached. Good thing we did. The following day we decided to cycle to Hvar Town. 25km each way consisting of several steep 10% inclines. This is when we discovered how much easier it was cycling without the panniers and extra weight.
Cycling across Hvar Island
From Jelsa we cycled across the island to the small town Sucuraj. The cycle across the island was probably one of my favorite cycle days. The weather wasn't particular sunny or warm, but there was no wind, and the views were stunning. We cycled along the main road of the island, which seemed more like a cycle path than a main road. Cyclists out numbering cars by the dozen. It was great, even with the odd 10% incline. This was the same day we realized just how many German-speaking tourists there were in Croatia. We discovered how popular it was to explore Croatia on a bike.
[ctt template="8″ link="v5Msb" via="no" ]Cyclists out numbering cars by the dozen. #cyclingHvarisland #croatia @CycleTrekkers [/ctt]
Usually when travelling people assume I'm English, Australian or French (apparently I sometimes speak Spanish with a French accent). Never in my life has anyone asked whether I'm German (I assume this is because I'm relatively short, with dark hair). Stick me on a bicycle, put me in Croatia (with a tall, skinny, bald guy) and everyone assumes I'm German – strange!
Once we arrived in Sucuraj we caught the ferry back to the mainland at Drvenik, and stayed at a nearby campsite in Zaostrog (also full of very friendly Germans). The following day we had planned to cycle all the way to Dubrovnik, a whole 120km, however the weather changed for the worse. Not only did we face many challenging, steep inclines, we were also battling gall force winds, and were consistently racing an on-coming storm.
Bosnia for lunch
We made it in and out of Bosnia, just before the storm had caught up with us. After 88km we decided to call it a day and camped in Slano, about 30km outside Dubrovnik. That night was probably one of the worse nights of the trip so far. Strong winds reaching over 100kph, heavy rains and consistent thunderstorms. It was hard to believe just a few days earlier we were cycling in beautiful sunny, clear blue skies.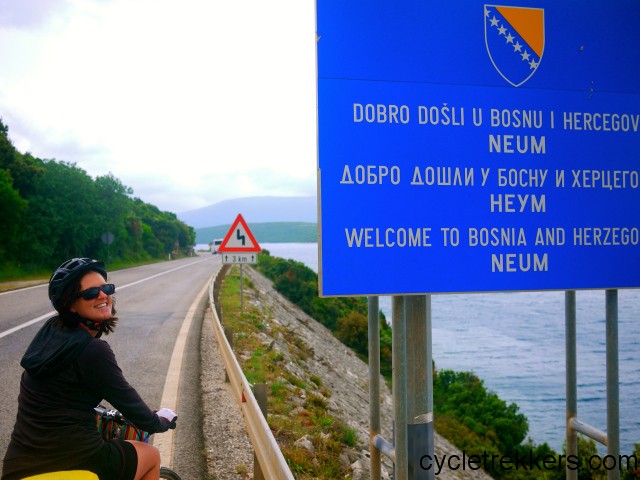 Here comes the rains
Around 5am we woke to discover that water was seeping in through the bottom of the tent. Under our camping mats a pool of water had gathered. It turned out we had pitched the tent where the water couldn't drain. We gave up on sleep after that and took shelter in the small outside communal area, and attempted to dry out our stuff. The rain continued until midday. When it did finally start to ease off we decided to make an escape. After a horrible night we decided to book ourselves into a guesthouse in Dubrovnik for 2 nights.
Yes, I'm a Game of Thrones fan!
I'm afraid I'm one of the many people that are hooked on the HBO series, "Game of Thrones". I'm currently making my way through the books, and downloading the latest episodes whenever the chance arises. For those of you that don't know, the Old Town of Dubrovnik is King's Landing in Game of Thrones. Exciting stuff (for me anyway)! Regardless of this, Dubrovnik is a beautiful (though not very cycle-friendly) city, with amazing views of the harbor, the Adriatic Sea and the nearby islands – it definitely beat my expectations.
After we left Dubrovnik we continued south down the coast towards our next country, Montenegro. Unfortunately the weather still hadn't improved, with more storms being forecasted for the week ahead. Let's hope the weatherman is wrong! And that wraps up our experience of Croatia on a bike!
Croatia on a bike stats
Accommodation: 5 nights in official campsites, 2 nights in a guesthouse
Kilometers cycled in Croatia: 300km ("mas o menos")
Kilometers: 1300km
Days in Croatia: 8 days (7 nights)
Total days cycling: 24 days
Average spendings per day: 16 euro ($23AUD)
Bureks consumed: 4
Punctures: Still 0 (though I've probably just jinxed it – and jinxed it I did)