So, why did I decided to put together this Vancouver City Guide for Cycle Tourists? Last summer I was fortunate enough to land myself a summer job in Vancouver, working at Capilano Suspension Bridge. If you haven't heard about Capilano yet, don't worry you would have by the time you leave Vancouver. It's hard to escape the park's advertising! Though I loved working there, it is a tourist trap. But, what I did learn during my summer in Vancouver is the best and cheapest way to see the city. Vancouver is an expensive city, and as you probably know, most cyclist tourists are on a bit of a tight budget. So it is handy knowing how to visit this awesome city, without blowing funds you've saved for a rainy day.
Vancouver is also where we choose to start our World Cycle Tour, where we bought our touring bikes and where we had to prepare ourselves for the start of our trip. I wanted to share with others what we learnt.
I've made a couple of assumptions of people reading this Vancouver City Guide for Cycle Tourists:
You're planning a cycle tour that passes through Vancouver at some point.
You love the outdoors and like hiking.
You're on a budget.
You're visiting Vancouver during the "cycle season" (ie. May – Sept), which is also the "cruise season," so Vancouver's peak season.
So without further a due here is the Vancouver City Guide for Cycle Tourists!
Some things to know about Vancouver:
Bike theft is huge! Keep an eye on your bike. If it gets stolen you won't get it back.
If you have an expensive Saddle, then lock it to your bike. No joke! Bike seats get stolen all the time. We got some old chain from a bike store and locked our seat to the bike with that. While I was in the bike store, a girl actually came into the store looking for a new bike saddle because hers had literally just got pinched.
Avoid staying around East Hastings & Main St (or anywhere near the bus station). It's not the nicest area of Vancouver.
There are loads of cycle paths around the city.
You can take bikes on buses and on trains.
If you are visiting during July or August, then definitely book your accommodation in advance. I've found Airbnb to have the best accommodation deals, otherwise I would try bookings as they tend to have the cheapest hotel prices. Hostelz is also a pretty good site to use, particularly if  you are looking for dorm room accommodation.
Most people stay around Kitsilano, Broadway St or Downtown. My favourite areas are North Vancouver (or the North Shore) and Kitsilano. The North Shore is a bit far from downtown, however it is a great base if you plan on cycling Hwy 99 (Sea to Sky), as you will miss all the morning traffic when leaving Vancouver (and there is A LOT of traffic in Vancouver).
Public transport and traffic in Vancouver generally sucks! I've found it's usually quicker to cycle somewhere then to catch the bus. If you are staying on the north shore, then there are no trains, which means public transport sucks even more.
Bike & Outdoor Stores
We got our bikes from Bikes on the Drive. Personally, we didn't have a good experience with them and I wouldn't recommend them. I've heard that Ride On and Ride on Again are both good bike stores to check out. There are LOADS of bike stores in Vancouver – make sure you read the reviews and do some research before dealing with the store.
Mountain Equipment Co (MEC): It is $5 for a lifetime membership and it is definitely worth it. You will love this store. They are dotted all over Canada (in the major cities, though more so in the West), have an AWESOME return policy and sell everything from bike stuff to camping gear to outdoors clothes. There are 2 in Vancouver: one in downtown and one on the North Shore.
Sport Check: Another good outdoor store. Reasonably priced with a good selection. There are a few dotted around the city.
Touristy things to do:
Unfortunately, a lot of the tourist attractions in Vancouver are over-priced, but there are a lot of free or cheap activities to do around the city. A lot of them in my opinion are more interesting than the paid attractions. Definitely skip Capilano Suspension Bridge. It's a tourist trap and it's ridiculously overpriced. You are going to see way more impress things on your cycle trip anyway. But, don't skip the North Shore – it's awesome.
North Shore
Here's an idea of a day itinerary that I used to recommend to family and friends visiting Vancouver:
Head to Canada Place and spend a bit of time walking around the waterfront and admiring the seaplanes, view, sails on the building etc. Then, catch the ferry from there to Lonsdale Quay (on the North Shore).
At Lonsdale Quay you have a great view of Vancouver's cityscape. There is a lookout you can walk up to and get an even better look. There is also a small market, a craft brewery (with 'ok' beer) and a cheap "all you can eat" Chinese buffet – if you want to start carb-loading. Lonsdale Quay also has a farmer's market every Saturday during the summer, and a night market every Friday night during the summer months. The 'Japanese style burrito' food truck at the night market is delicious!
Lonsdale Quay has the North's Shore main bus terminal. From here you can catch buses to several different trails and attractions.
A) Capilano regional Park, the Salmon hatchery, Cleveland Dam & Grouse Mountain
Take bus #247 towards Grouse Mountain. Get off the bus at Capilano Suspension Bridge or Cleveland Dam for Capilano Regional Park* (click here to see a map of the park with trails and bus stop locations).
The regional park is free and has some amazing views of the canyon and really nice walks through the rain forest. In my opinion it's nicer than the park. I recommend heading to the Salmon Hatchery first (it's free and takes about 30 minutes to walk to from the Capilano suspension Bridge and about the same from Cleveland dam).
From the salmon hatchery head over the bridge to the lookout that looks up at Cleveland dam (trail #8 on the map). The Coho Loop is also a nice loop to do if you want to explore a bit more. After exploring this area you can head up to the top of Cleveland Dam. It is really beautiful and a nice place for a picnic.
Once finished at the dam, you can head to the bus stop on the road. You have a couple of options here:
You can catch the #247 up to Grouse Mountain. Grouse Mountain has a gondola you can take up to the top ($40+). Or, you can hike the Grouse Grind (check that it's opened if visiting in May or earlier). It's a steep, but short hike to the top. It's then only $10 to catch the gondola backdown, plus you get the chance to see all the attractions at the top (grizzly bears, lumberjack show, bird of prey shows etc.) and a nice view of Vancouver. Grouse Mountain has a free shuttle back to Canada Place for anyone that rode the gondola. The bus takes you over the Lion's Gate Bridge.
Catch the #247 back to downtown Vancouver. This bus also takes you over the Lion's Gate bridge. You do have the option of getting off the bus near Stanley Park.
You can also walk up the Grouse Mountain from the dam. It's about a 30 minute walk just along the main road.
If you want to skip Capilano Regional Park, the salmon hatchery and Cleveland Dam, you can always stay on bus #247 from Lonsdale until the end, which is Grouse Mountain.
B) Lynn Valley and the suspension bridge (the free suspension bridge)
Take bus #228 to Lynn Valley. Get off on Lynn Valley road near the suspension bridge and follow the signs (the bus driver can tell you when to get off). There are some nice walks around the park, including the smaller, but free suspension bridge, some pools that you can swim in, and lots of canyons and waterfalls.
Alternatively, if you want to try some longer hikes you can stay on the bus until Lynn Valley Headwaters Park. There is a hike to a waterfall, and a longer hike, which leads up to Grouse Mountain (this is quite a difficult hike, so don't attempt unless you are prepared – it also takes at least half a day to a day).
I've only mentioned a couple of hikes that you can do from Vancouver, however there are loads. If you are interested in doing any other hiking then definitely check out Vancouver Trails.
Deep Cove
Deep cove is also a nice place to check out. It's a small town on the Indian Arm inlet, which has some great (and reasonably priced kayak hire), a famous donut shop and a nice hike known as Quarry Rock.
To get there either take the #219 bus from Lonsdale Quay to Phibbs Exchange, then catch bus #212 or #211 to Deep Cove. Or you can catch the #211 from downtown Vancouver all the way to Deep Cove.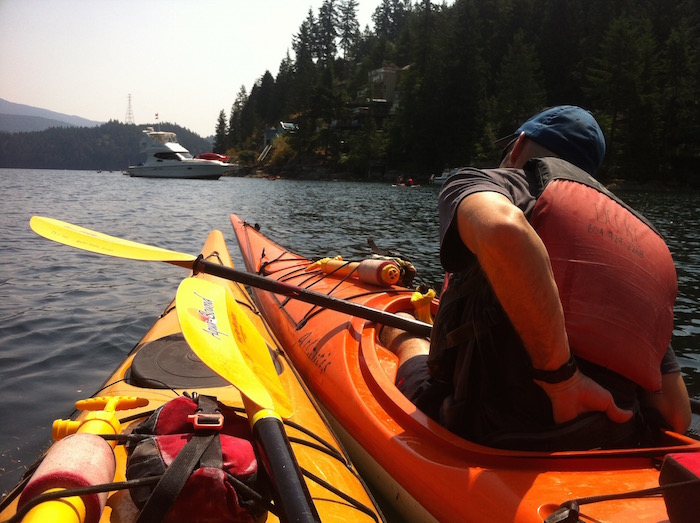 Stanley Park
You can't really visit Vancouver without taking a stroll or cycle around Stanley Park. It's huge and it's busy, but it's still definitely worth doing. Usually people will cycle around the seawall and follow the cycle path along the waterfront taking in all the sites along the way. The cycle path follows the waterfront from Canada to Place, around the seawall (under the Lion's Gate bridge), around the stadiums and science musuem, Granville Island and Kitsilano. It's definitely a nice cycle – but it can be extremely busy.
There are also a lot of walks around the park, but personally I think the best way to see it is to cycle.
During the summer Stanley Park also has free outdoor movies.
Craft Breweries
We decided beer is pretty important and Vancouver has some pretty great craft breweries. So we thought we had better make a whole section in this "Vancouver City Guide for Cycle Tourists" dedicated to it. Since writing this guide we have also started a new site dedicated to cycle friendly breweries – check it out at Beercycle Touring.
Black Kettle on the North Shore is a small, but very good brewery. It's in the industrial area, and is only a small place, but definitely a great spot – especially if you want to get off the tourist trail.
Steamworks does good beer and also good food (I highly recommend the quinoa burger). They are located in Gastown.
Granville Island brewery is super popular, and you will find it all over Canada. The brewery is pretty cool though, and they do brewery tours. The hummus plater is also really good.
I didn't think much of the beers at the brewery in Lonsdale Quay, but they do have a pretty cool location.
Though it's not in Vancouver, if you do make it up to Whistler, The Whistler Brewery does a very good Grapefruit beer.
If you want to try a bunch of local brews for cheap, then head to the liquor store and grab a few different ones to try. Drinking beer is carb loading – so, it's great preparation for cycle touring wink, wink.
Liquor Stores
BC has 2 types of liquor stores:
Government owned (BC liquor): these stores are generally cheaper, but don't always sell cold beer. When they do sell cold beer it's usually only bud and coronas (if you're lucky).
Privately owned: more expensive, but they usually have cold beers and wine for sale. They are more likely to sell a larger range of local beers and wines, however this is not always the case.
A lot of the privately owned liquor stores will have tasting nights of either local BC wines or beers. It's worth keeping an eye out for these.
Free Events in Vancouver to watch out for:
Vancouver loves fireworks.
There are several firework displays on every summer. Celebration of Light and Canada Day (1st July) are 2 of the big ones. There will also be several smaller ones throughout the summer.
Night markets.
Richmond Night markets (Saturday night)
Lonsdale Quay (Friday night)
There are actually a whole bunch all over the city. This article (though for 2016) does a good job at describing all the different night markets in Vancouver.
Farmers markets.
These are dotted all around the city. Whatever day you are in Vancouver, if it's summer, it's likely you'll be able to find one on, whatever day you're there.
Outdoor movie nights.
Stanley park open aired movies are free and on every Summer. There are also a few smaller companies that have free outdoor movie showings at different locations through the Summer. The best place to find out about these is in the Straight free magazine or on Vancity Buzz (which I just discovered is now called Daily Hive).
There are also lots of parades and festivals going on in Vancouver over Spring and Summer, such as the Vancouver's International Jazz Festival and the Pride Parade. The free magazine called The Georgia Straight is the best place to check out events and festivals.
There is also some pretty useful information on the bicycle section of the Vancouver Tourism site, including information about bicycle events and links to cycle maps.
Getting in & out:
So I've already mentioned how bicycle friendly Vancouver is with all the cycle paths, and public transport that can carry bicycles, but what about getting in and out of the city.
Vancouver Island:
There are two options for getting to and from Vancouver island and both involve BC ferries.
Nanaimo – West Vancouver
Victoria (Swartz Bay) – Vancouver (Tsawwassen)
To the rest of BC:
The two most popular routes out of Vancouver (if you're heading across Canada) are 1) the Sea to Sky highway to Whistler/ Pemberton and, 2) Highway 1 to Hope (or rather the roads that parallel highway 1 to Hope).
Personally, I would recommend the sea to sky highway, as it is a beautiful ride with stunning views, but it is a little longer and a bit more hilly than the alternative route. The highway does get a little narrow in sections, as does the hard shoulder. Something else to keep in mind is that bicycles are prohibited on sections of Highway 1 from Vancouver to Hope. This means you will have to take the quieter country roads (which I think are actually much nicer, just not as direct), for part of this route. Check out our Canada route notes or our ebook on Cycling Canada
for more information about the roads out of Vancouver.
And that much pretty sums up our Vancouver City Guide for Cycle Tourists. Vancouver is an awesome city! We absolutely loved living there, so hope you enjoy exploring the city too.
If you have any questions or suggestion on how to improve this Vancouver City Guide for Cycle Tourists, please let us know. We'd love to hear your feedback!