So here is our halifax city guide for cycle tourists! Some cyclists end here, some cyclists start here, some might just pass through. Either way, Halifax is the biggest city in the Maritimes, and definitely has a lot to offer. I've spent the past 6 months in Halifax, exploring the city and discovering a few things worthy of sharing with other visiting cycle tourists.
Who will find this Halifax City Guide for Cycle Tourists beneficial?
Anyone on a cycle tour that plans on passing through Halifax at some point.
Someone visiting Halifax on a budget
Some useful things to know about Halifax
Generally, I didn't find the city to easy to cycle around. There are a few cycle paths, but these few and far between and usually end suddenly. I definitely recommend taking care when riding around the city.
Halifax is full of awesome craft breweries! Definitely worth checking a few out is you like beer – or check out this Self Guided Halifax brewery Tour.
This may only be something I found odd, but pedestrians tend to walk out in front of traffic without looking a lot. It is almost assumed that everywhere you cross the road is actually a pedestrian crossing. I didn't notice this anywhere else in Canada, but I definitely noticed it in Halifax.
Despite the small size of the city, there is a lot of traffic during the peak hours. Try and avoid cycling during this time if possible.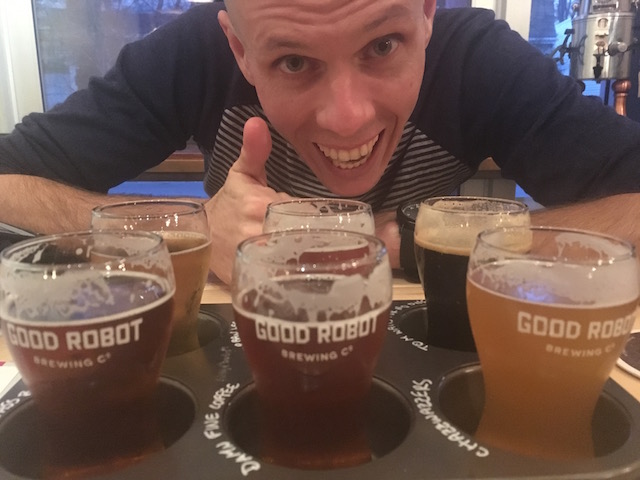 Halifax City Guide for Cycle Tourists
Accommodation
Warmshowers and Couchsurfing does exist in Halifax, though the communities are a bit smaller than some of the other Canadian cities.
Airbnb definitely offers some of the cheapest accommodation options. Otherwise, I like to use Bookings (take advantage of $25 of free credit). Hostelz is also a pretty good site to use, particularly if  you are looking for dorm room accommodation.
The North End of Halifax is considered to be a bit sketchy, but nothing compared to East Hastings in Vancouver, or the likes in similar cities. The dodgiest street is probably Gottingen Street.
If you're looking to save a bit on accommodation then look to Dartmouth. It's a quick ferry ride away from downtown Halifax, and (if the bridge construction is finished by the time you arrive) there is a bike lane over the Macdonald Bridge, which connects Halifax and Dartmouth.
Bike & Outdoor Stores 
We had good experiences at these bike stores:
Cyclesmith: Super friendly bunch! A little pricey compared to a few other places in Halifax, but definitely guanetted to do a good job.
Long Alley Bicycles: This is a little place on Quinpool. Super helpful staff, and definitely one of the cheapest bike stores in Halifax.
Halifax Cycles: This store seemed to have a lot of touring gear. The owners are also cycle tourists, so they're pretty good at catering to the needs of cycle tourists – and they sell some pretty awesome bicycle jewellery too. This bike store also helped a couple of my cyclist friends box up their bike for their flight.
Mountain Equipment Co (MEC): It is $5 for a lifetime membership and it is definitely worth it. You will love this store. They are dotted all over Canada (in the major cities, though more so in the West), have an AWESOME return policy and sell everything from bike stuff to camping gear to outdoors clothes. There is a small store located in downtown Halifax.
There is also a Patagonia Store, which is located in the stunning old brewery building of Alexander Keith. Definitely worth checking out as it is a really cool building.
If you head over to the Halifax Shopping Centre, make sure you take some out-of-town ID with you. This mall gives out a free $5 voucher to all out-of-town visitors. They have a pretty big Sport Chek store there – and you can check out where I worked over Winter; the Newfoundland Chocolate Company!
Tourist things to do
Maritime Museum
Every Tuesday 5pm – 8pm the museum offers free entry and free talks.
You'll probably not be surprised to discover that Halifax has a huge maritime history. The museum has a really good exhibit on the Halifax Explosion and also the Titanic.
Citadel Hill
Free entry 30 minutes before closing
You can't miss this place! Even if you don't want to visit the Citadel, it's still worth walking up to the viewpoint. If you happen to be walking passed the citadel at midday, then be warned. Every day at midday the canyon is fired.
Fairview Cemetery (titanic graves)
This is found on the outskirts of Halifax, towards Bedford. They are still easy to cycle or bus to. Or, if you are entering Halifax via highway 2, you can easily detour via the graves. We actually did this by accident when we arrived into Halifax. I found the graves really interesting – read the information board if you do visit!
Fisherman's cove
You will either have to bus or cycle to this little fishing village. It's very cute! This is also where you can catch the ferry (approx. $20) to McNab's Island. There are lots of hiking trails on McNabs that are worth checking out.
Emera Oval (or the commons)
Free skating in winter and free roller blading in summer. A nice place to chill with a picnic and a good book on a sunny day. Another nice place to relax is the Public Gardens.
Seaport Markets
I love these markets! The best day to go is Saturday – this is the busiest day, but it's also when they have the most stalls open. If you like wine, there are also plenty of wine stalls at the markets that offer tastings, along with local rum and vodka stalls. It's also the oldest continuously running, commercial market in America.
Probably the best hike I've done near Halifax. It's beautiful, though if you've just come from the Rockies, then it probably won't compare. It is easily accessibly by bike and bus. There is a really good bike trail that leads straight past the trailhead. The trailhead is about 15km from Halifax. Pleasant Point Park, near downtown Halifax and also Dingle Park, next to Purcell's Cove are also really pretty parks with some shorter hiking trails.
Cheap Massage
While in Halifax I discovered the College of Massage & hydrotherapy student intern clinic. This clinic was offer hour massages for less than $30. I have to admit I was a little reluctant at first, but I was pleasantly surprised. My masseuse, Breanne was brilliant! She even sorted out some wrist issues that I had been having, and taught me how to correct the issue myself in future.
The free magazine you want to check out is The Coast. It's released every Thursday, and lists all the different events in and around Halifax. It's also available online, but I personally find the paper version easier to navigate.
Getting In & Out
Most people will ride into Halifax one of two ways down highway 2 via Bedford (and if you like the Titanic Graves), or via highway 7 and through Dartmouth. Both routes are busy and not really a whole lot of fun. If you do choose to go via Dartmouth then you will either have to take the ferry, or if the MacDonald Bridge is opened, you can cycle over that. The McKay Bridge does not allow cyclists and they are quite strict on that.
If you are headed to Yarmouth or Digby (via Kejimkujik) then there is a bike path that starts near the Rotary/ Armdale area of Halifax. The bike route is paved and well maintained until the Hubbards, from there you might want to get on one of the roads.
To/from the airport
I've used Driver Daves shuttle service to and from the airport. They are cheaper than the taxi and pick you up from your accommodation (unlike the other airport shuttles and public airport bus). So if you have a bike box it's a bit more convenient. They charge $10 per bike box. Also, Uber doesn't exist in Halifax… yet!
We enjoyed our time in Halifax! There are lots of good restaurants, breweries, markets and random events going on in this student city.
I hope you found this Halifax City Guide for Cycle Tourists useful. Do you know of any cycle friendly places in Halifax that I missed? Let us know in the comment section below.
If you plan on cycling through Vancouver at any point during your cycle trip, then check out our Vancouver City Guide for Cycle Tourists to help you make the most of your visit.
Safe trails!