Hacienda Merida: Ecotourism in Nicaragua
For my birthday this year, we had the pleasure of discovering some ecotourism in Nicaragua, while staying at Haceinda Merida on Ometepe Island in Nicaragua. Though the last 7km cycling down the dirt road to the hotel was a bit of a challenge, it was worth it in the end.
Hacienda Merida is a unique hotel, as it provides funding to a number of different projects, as well as using eco-bricks to build a free, bilingual school for the kids in the area.
We spent 4 nights at the hotel, and had the opportunity to explore the school as well as visit the Ometepe Biological Station, which is the starting point for the hike to San Ramon waterfall.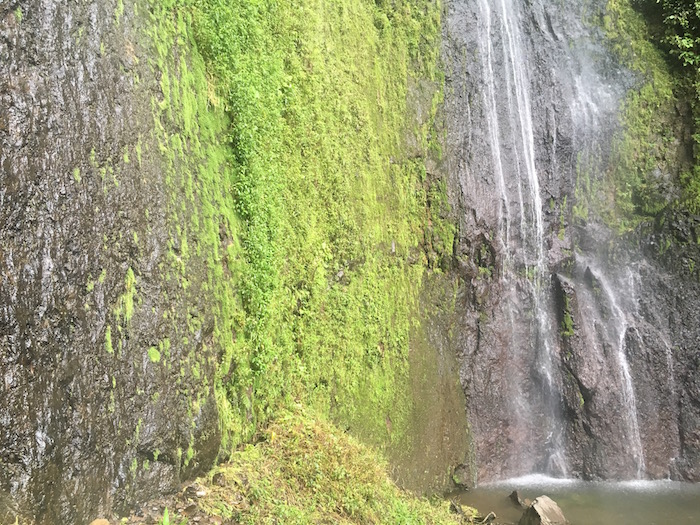 What are Eco-Bricks? 
Hacienda Merida buys eco-bricks from the community. An eco-brick is essential a 1.5L plastic bottles, filled with rubbish. Each brick cost US0.50 cents, and contains 500g of non-organic waste. This incentive helps to educate the local community about non-organic waste, as well as reducing the amount of waste that ends up in the environment, or being burnt in the streets. These bricks are then used to build the walls of the school, and other structures such as outdoor tables and chairs.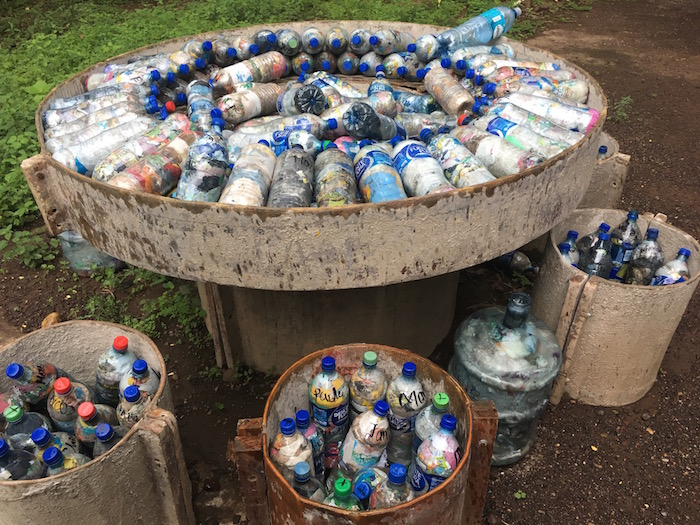 The School
Public education is free in Nicaragua, however it's generally not very good, and definitely not bilingual. The Ometepe Bilingual School is funded solely by Hacienda Merida, and offers free quality education to children. The school currently has 84 students, and is bilingual, with the aim to educate children in environmental awareness, sustainability and ecotourism.
Haceinda Merida: The Hotel
The hotel was established in a pre-existing building, so no land was cleared to create the hotel. The hotel also promotes sustainable activities such as cycling, hiking and kayaking, opposed to renting a motorcycle. It was also one of the few places I discovered in Nicaragua that actually separates recyclables and organic waste. All organic waste (such as left overs from the hotel restaurant) is used to feed the hotel's pigs and chickens. The food served in the hotel is locally sourced, reducing the carbon emissions generated from transportation. I believe they also have a generator that runs off solar panels.
Get Involved:
Volunteering at the School
The school offers a volunteer program to either long or short-term visitors. Contact Hacienda Merida to find out more.
Send Emails, Blog or Vlog
I briefly met the owner, who told me about his concerns about the pollution and rubbish in Nicaragua. He believes that tourists provide an opportunity to make a difference, by putting pressure on the government to invest in a better wastage/ recycling system in Nicaragua. So, instead of just bitching about the rubbish you see, amongst your friends and family, write to the country's politicians or governing body and voice your opinion. He believes if enough people do this, then change will happen. Whether this is true or not, there is only one-way to find out.
Admittedly, I've travelled through a lot of countries that have issues with rubbish, and I've never considered writing about it before. So this time, I will take 5 minutes and send an email voicing my opinion, and I urge others to do the same. After all what's 5 minutes of your time.
Stay at the hotel
Currently 40% of the profits generated by the hotel goes towards funding the bilingual school, eco-bricks and a few other sustainable projects on the island. By staying at the hotel you are supporting a great cause, and ensuring your money goes towards protecting the island and promoting sustainability.
If you enjoyed this article about ecotourism in Nicaragua, check our some of our other ecodiscoveries.
We spent about 5 weeks cycling around Nicaragua – check out our Nica post to find out what else we've been up to!