We plan on cycling through 6 continents over about 5 years, so as you can image, the route might change slightly. We will try to post regular route updates throughout the cycle trip.
Actual Route: Canada
This is a map of the actual route we took across Canada. You can also check out our Canada trip notes for a more detail record of this section of our trip. We hadn't originally planned on cycling the Maritimes in Canada, but we had a slight change in plan once we got to Ontario.
Actual Route: France to China
This is just a rough map of the route we took from France to China. We started in Sty Foy (the French Alps) and cycled all the way to Urumqi, China. Google maps wouldn't let me include a route in China, so the map only shows as far as Almaty, Kazakhstan. The total distance was 8,500km and took 8 months.
---
Proposed Route: USA
This is the proposed route we plan to take across the USA this Spring 2017.
---
Original Proposed Route: World Cycle Tour
Chapter 1: The Americas Proposed Route (Canada, USA, Mexico, Central America and South America)
Hopefully we will get to cover some more ground in South America too, especially in Patagonia 🙂 Paraguay is also on my list!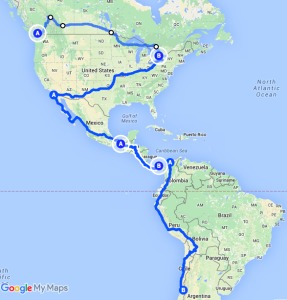 Chapter 2: New Zealand & Australia Proposed Route
Most likely we'll end up working back in Australia for a bit, but on the East Coast for a change. We may also end up working in New Zealand. Though, we are already talking about cycling across Australia to Perth, so this route will probably change.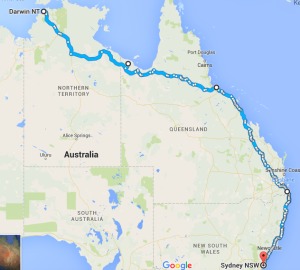 Chapter 3: South East Asia Proposed Route (Indonesia, Malaysia, Singapore, Thailand, Cambodia, Vietnam and maybe Laos)
Totally pumped for cycling through South East Asia. Would love to fit in Burma and Laos too, but will see how we go. We're also considering teaching English (TEFL) in Vietnam, on the way through (so, Aussie friends, feel free to come and visit).
Chapter 4: Undecided… I would love to make it to Japan though
China? Taiwan? Nepal? Mongolia? Kazakhstan? Russia? Who knows… maybe we will stay and teach in Asia for a bit, maybe we will 'hot-tail-it' through. Completely undecided on this section.
Chapter 5: Proposed route through Azerbaijan, Georgia, Turkey, Greece, Bulgaria and Serbia
Azerbaijan and Georgia have been on the list of countries I've wanted to visit for quite sometime, and we absolutely love Turkey and would love to cycle through it again.
Chapter 6: Proposed route in Eastern Europe to Scandinavia and finally back to Europe and the UK
We could head straight through Europe to the UK, or we could take a bit of a detour. I guess this will all depend on how we feel about cycling at this stage.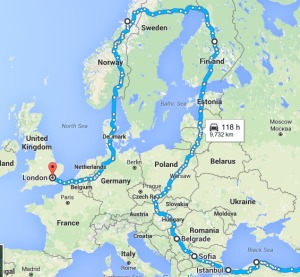 Once in the UK, we'll finally get the chance to put all our research into action, and start working towards opening our eco-hostel (not quite sure where, when or how this will happen, but I'm sure by that stage we would have come up with some sort of plan).
If you want to see which countries we've already been to, check out our country tracker.
If you have any route suggestions, or tips for cycling through these regions, please comment below. Also, please let us know if you know of any eco businesses in any of these regions. And of course, if you happen to be in an area we're cycling through or if you are planning on cycling a similar route and our paths might cross, let us know. We love meeting up with people on our travels!