Cycling into New York
I was pumped to be cycling in New York state, and to start cycling the Erie Canal Trail to Buffalo. I'd heard so much positivity about the trail, and the countryside, I couldn't wait to actually experience it for myself.
As soon as we crossed into New York State, bicycle route signs and a hard shoulder appeared! This made the cycle to Albany a fairly pleasant one. That was until a guy in a car pulled out in front of us when we had the green light. He gave us the finger, and then proceeded to get out of his car and start yelling at us. We're not really too sure what his problem was, but two guys in a nearby café whom witnessed the entire thing stood up for us, and took over the argument on our behalf.
This was a strange introduction into the state, and just one example of the two extreme perspectives of cyclists. It seemed you are either pro-cycling or anti-cycling. Sadly, it actually reminded me of cycling in Perth. In both places there is a definite sense of aggression on the roads between motorists and cyclists (not by all, but by some).
At the end of the day just like there are good and bad motorists, there are good and bad cyclists. Though regardless of this, a car can easily kill or seriously injury a cyclist. I think some motorists need reminding of that.
New York's capital, Albany
As we entered Albany the awesome network of bicycle paths became immediately apparent! It was a super easy city to cycle in and out of, and was also the starting (or ending) point of the infamous, Erie Canal Bike Trail, which we were both pumped to start cycling.
In Albany we had the pleasure to stay with the wonderful, Becca! We stayed at her place for two days, and enjoyed the sun, mediation and some great food, drink and conversation.
Cycling the Erie Canal Trail
From Albany we started cycling the Erie Canal Trail. The rumours were that the Erie Canal Trail was the longest bike trail in North America. The trail was supposed to be a 365-mile bike trail all the way from Albany to Buffalo. What is it they say about something sounding too good to be true?
We got about 20km outside Schenectady when the trail disappeared. This was just the start of our constant battle to relocate the bike trail. Often when we did reconnect with the trail it was unrideable with our heavy, fully loaded bikes. So we ended up on State Bike Route 5 just as often as on the actual Erie Canal Trail.
To be totally honest, cycling the Erie Canal Trail was a bit of a disappointment, but it wasn't all bad. Some parts of the trail were really beautiful. We passed several cute towns, camped at a couple of canal locks and took full advantage of the abundance of picnic spots along the route. There were also lots of cool heritage sites to visit along the route.
Our big 100 mile cycle day
Struggling to find somewhere to camp near and around Rochester, we were forced to book into a hotel. It had been 3 days since we'd had a shower, so I was pretty happy for the luxury of a hot shower, a comfortable bed and buffet breakfast. I had also developed a chest cough, which was starting to affect my riding and also my mood, so I was definitely in need of a few days recovery.
We still had 100 miles (160km) of cycling the Erie Canal Trail until we reached Grand Island (near Niagara Falls). In Grand Island we had planned to stay with a family for a couple of nights, before heading towards Ohio.
During the morning, at the hotel we discovered there was a crazy storm forecast to hit later that night. The thought of camping in a storm was not too appealing – so we did what any sane person would do. To beat the storm, we decided to smash out 100 miles in one day! This is actually the furthest we have ever cycled in one day. It was one of those days where everything went against us. I won't bore you with the details, I'll just say it was a bloody challenge!
After a very long and very challenging day, we arrived at the bridge that went from Niagara to Grand Island. From there it was only a couple of kilometres to where we were staying. Finally we arrived at 9pm. I have never been so happy to see a bed! I can honestly say I slept like a baby!
More Tornado Warnings!!!
The storm arrived overnight, bringing with it tornado warnings, flooding and freezing temperatures. Seriously, it's May – when will spring arrive? I was extremely grateful to not be stuck cycling in the storm, but still it would have been nice to do a few hikes and explore the Niagara area a bit more.
The storm and bad weather hung around for 5 days. We did manage to find a break in the storm to visit Niagara Falls and seek out an all-you-can-eat Indian buffet, but other than that we were confined to the indoors. This was probably actually a good thing as my cough had gotten worse, and my body probably needed the rest.
Grand Island and a Change in Plan
On Grand Island we stayed with the Cook family – probably the best people on the island (I'm totally not bias)! They had a little log cabin out the back of their house, which we stayed in. We had originally planned to stay with them for 2 nights, and then continue cycling; however the chest cough I had developed changed all that and got us re-thinking our initial plan.
After our epic cycle day cycling the Erie Canal Trail, my cough got worse (not really a surprise), to the point I couldn't cycle anymore. We couldn't afford to stay somewhere in the US and wait until I was better, so we started to look into either taking the bus or renting a car for a portion.
The buses and car didn't seem to work out how we wanted, so in our frustration and strange logic, we came up with the idea to fly somewhere. This somewhere ended up being Nicaragua!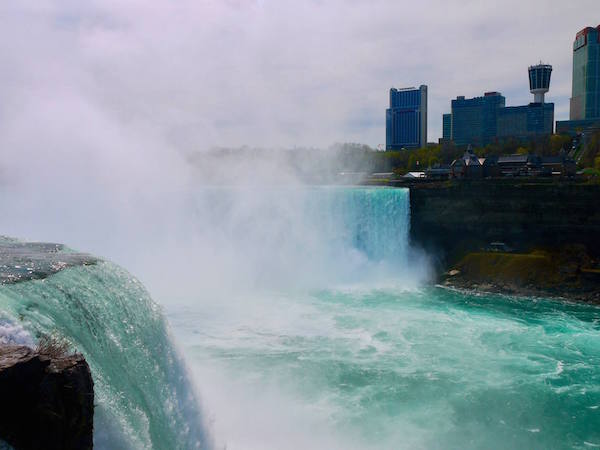 Our Strange Logic
While in Halifax we actually spent more money than we had budgeted for, and our funds were slowly running out. By flying to Nicaragua we would skip at least 4 months of cycling. Plus it would mean I could rest and recover somewhere for a couple of weeks (in the heat), while we take Spanish lessons. Though this was a snap decision, which meant flying with bicycles, I think it was a logical decision!
So after spending 5 nights on Grand Island, we boxed up the bikes (which was more hassle than we thought) and headed to Toronto Airport, to make the long trip to Managua, Nicaragua!
What Nicaragua brought us was not what we expected… and perhaps would lead to another change in plans!