After spending almost 6 months in Halifax, I couldn't believe the time to leave had finally arrived. From Halifax we were starting the next leg of our world cycle tour: cycling Canada to Argentina!
Being a Haligonian!
When Michael and I arrived in Halifax we had good intentions of maintaining our level of fitness – yeah, that last about a day! With me working in a chocolate shop and constantly getting free chocolate, as well as it being freezing cold and there being so many craft breweries to try out, there was little (read "none") fitness going on.
Come spring we were two relatively unfit cyclists, ready to hit the road and start cycling Canada to Argentina. Unsurprisingly, we felt the consequences! My butt hurt, my thighs hurt, my arms hurt, even my back hurt – and we were struggling along doing almost half the pre-Halifax cycle distance. Admittedly, it wasn't just down to our lack of fitness or the extra shit we were hauling along – the weather also had a large part to play in our lack of kilometres.
Goodbye Haifax
When the day finally arrived to leave Halifax, it was snowing and not just a little bit. There was still a tonne of icy snow of the floor that had yet to melt and it was bloody freezing! I'd never cycled in the snow before, and to tell you the truth, I was slightly excited about the thought of it. The novelty soon wore off – about 10 minutes later.
We cycled for 2 hours in the snow and finally stopped in at a Tim Hortons to warm up. Eventually the snow eased and we were back on our way.
Cold nights and friendly people
Our plan for the first night was to camp at a provincial park in chester, however when we arrived it was still closed for the season. It was supposed to drop down to -7 degrees Celsius overnight, and we were already shivering and it wasn't even sunset yet. Would we freeze to death overnight? Luckily, we never had to find out.
While we were contemplating our sanity and deciding whether to set up camp in the provincial park,  Joan and Rob (two friendly locals) spotted us, and took pity on us. They invited us in, gave us a warm place to stay, and fed us some amazing food. We got to spend the evening sharing some stories – which was much more enjoyable than shivering away in the tent. I'm forever grateful that we never had to discover just how cold camping in -7 degrees Celsius is.
From Chester we headed to New Germany, then onto Keji National Park. The cold weather and snow hung around, but at least the sun was out… well for a couple of days at least.
When we arrived at Keji, the visitor center had already closed and the rangers had left for the day. Lost for what to do, we decided to head into the park to Mills Falls and camp in the emergency shelter. It was still extremely cold, even with the wood fire we got cranked.
Overnight, there was freezing rain, crazy winds and more snow. The snow continued on into the morning, so we decided to stay in the shelter to wait it out. After lunch the freezing rain had turned to light snow, and we decided it was time to make a move.
To get to Mill Falls we had to ride down a dirt road – overnight this dirt road got covered in snow. We had the fun job of pushing/ riding out in the snow – which I actually found quite enjoyable, though it was quite slow going. Luckily we discovered that all other roads had been cleared, and it turned into quite an enjoyable ride to the Bay of Fundy.
From Keji, we had originally planned to make it to New Brunswick via the Digby ferry, the same day. The snow and bad weather slowed us down, and we only made it as far as Annapolis Royal. Stuck for what to do, we did what any normal person would do and headed to the pub. This turned out to be a great idea, as at the pub with met Brian, who came to the rescue and invited us to stay at his place. Perfect – this meant a good night sleep and time to explore the town in the morning.
Saint John, New Brunswick
Eventually we did make it to Saint John, New Brunswick. We only had a short cycle day to get to Saint John, but I was totally shattered on the ferry and slept most of the way. Once we did arrive, it was already dark. It turned out that the ferry port is 5km outside of town. After much confusion we eventually made it to our warmshowers hosts' apartment – it only took us a shocking 45 minutes (I have no idea how I managed that).
We spent two nights in Saint John – awesome city! I was delighted to have a day off the bike – the cycling was really taking out of me. It was clear that my fitness was not what it was 6 months earlier.
More cold weather
After resting for the day, we were (semi) ready to hit the road again! From Saint John we got on the highway to the border. A crazy headwind and cold rains greeted us. This slowed us down, and instead of making it to the border town, we only made it as far as Saint George. Soaking wet and freezing cold we decided to book into a cheap hotel.
One thing about riding in the freezing cold, it's just about manageable, until you stop riding! I have no idea how the long distance winter cyclists do it! What about breaks and stopping for lunch when there is no shelter, not even a gas station? We stopped for a minute at a time to eat some food, but there was no way we were stopping for longer than that. It was way too cold! This was probably one of the coldest and most miserable days we've cycled in the Americas – it was not fun! Luckily the hotel was pretty nice and the hot shower was one of the best of my life.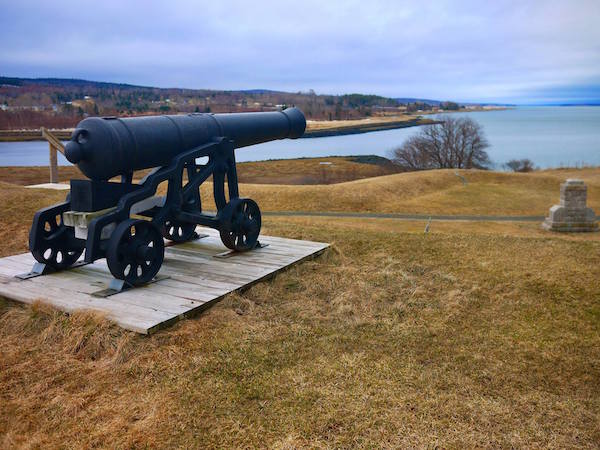 Headwinds are the worst things in the world – no joke!
We woke up to sun – and another headwind! But, it didn't matter because it was about 10 degrees warmer, so I was happy. We continued on the highway to Saint Stephen, dropped into the Superstore to spend the last of our Canadian coins, and then crossed into the USA – with surprisingly little hassle!
So after spending the best part of 2 years in Canada, it was finally time to say farewell! I don't think we could ever repay the kindness we experienced during our time in Canada – it truly is an amazing country (despite it's cold winters) and we will definitely miss it!
We were finally on our next leg on the trip, cycling Canada to Argentina. Woohoo!
Liked this video about cycling Canada to Argentina? Check out more of our cycle videos here!