And that's a wrap! 
I know this might come as a shock to some, but while having time to think and discuss our trip, our expectations and what we want from the cycle trip, we actually discovered that we don't want to be long term cycle touring. We've both travelled to around 70 countries, on and off for the last 10 years – it was time for something else!
This was a very sudden change in plan. We had no way that we would feel like this when we left Halifax. In fact, the entire time we were in Halifax we were so excited about starting cycling, that this is the last thing we thought was going to happen. But, sometimes you just don't know how you will feel or how things will end up until you're in that situation.
So, how and why did we come to the conclusion that we don't want to be long term cycle touring anymore?
#1 There is more to life than just exploring the world by bicycle
I love travelling, I love cycling, I love seeing the world… but, as hard as it might be to admit this, there is more to life than travel and exploring. I once thought I could be one of those wandering nomads, off discovering new places and people, letting the road take me where it wants, but in reality I want more in my life than that.
Our priorities had changed and I know wanted the things that travel cannot provide, like the possibility of having chickens, a dog, and a veggie patch. I don't want to be living on a strict budget each day, worrying about the pennies, where we're going to sleep that night and whether we'll get a shower that week. I know there are people out there that live like this either by choice or not, but in my case, I know I don't have to live like this – there are other options.
Though travel and cycle touring is great for the short term, I don't think it's healthy to do constantly. You end up missing out on other important things, like weddings, birthdays and family events, and you aren't able to maintain a healthy life balance. In the end, there is more to life than travel and cycle touring and that is a huge reason why we don't want to be long term cycle touring anymore.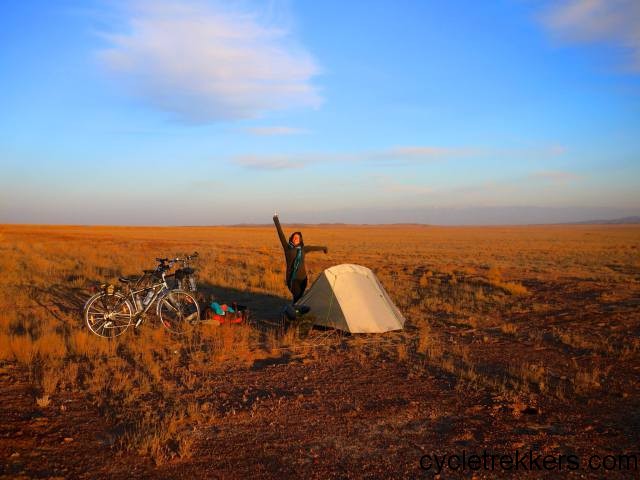 #2 I lost my purpose
I am a person that needs to find meaning or a purpose in everything I do, and one day while riding in the US, I realised that I couldn't find any meaning in what I was doing. This triggered more thoughts and feelings about the trip… thoughts I eventually shared with Michael. I thought that perhaps it had something to do with cycling in the US, and that these feelings will leave once we make it to Latin America. It was pretty clear once we arrived in Nicaragua that it wasn't the place that was the issue.
#3 Exhausted…
Cycling, travelling, living on a budget and being a nomad is exhausting. Even when you take a break (like we did in Halifax) you are still mentally on the move, planning for the next stage or trip. You're also not able to make any long-term plans, because you're only there for a short time. This along with constantly being on a strict budget, taking note of the pennies you spend, and trying to figure out how to make your money stretch to the next "rest" spot where you can work, is quite tiring. We had just had enough of skimping on things that we otherwise wouldn't have to.
I was also diagnosed with an eye condition in Halifax, which meant I was supposed to keep my eye completely clean and put a heat pack on it twice a day – if you're a cycle tourist, you'd probably understand how difficult that can be. This was just another thing to worry about.
#4 Sights losing the "wow" factor
You know this is starting to happen when you start compare everything you are seeing for the first time, to something or somewhere you have already been. You'll hear yourself say things like, "This city is just like Antigua in Guatemala." or, "This lake isn't as pretty as Lake Atitlan."
For us as well, we felt like this cycle trip was never going to compare to the France to China cycle trip, where everything was new and exciting. We were also cycling through a lot of countries that we had already been too. Don't get me wrong, I had an amazing time travelling there a few years ago, but the feeling wasn't the same as exploring somewhere for the first time.
#5 I don't like saying "goodbye" constantly
Cycle touring and travelling you do get to meet so many wonderful people, and I can say I'm lucky enough to have friends all over the world, but while constantly being on the move you can still be limited to how strong a connection you make or keep with those friends. At times you feel like you have all the friends in the world, other times you can feel so isolated and alone.
I also hate saying goodbye. I feel like with the number of times I've had to say "goodbye" in my life, it should be easier to say it by now. In fact, I feel like the more I say "goodbye" the harder it gets.
One thing that cycle touring has taught me is how important family and friends are, and instead of spending months, sometimes years without seeing my loved ones, I would rather have the option to see them whenever I like. Why? Because I miss my friends and family.
What now?
No, I'm not having babies! Sorry, Mum and Dad, but I'm afraid I'll only be giving you fur-grandchildren.
At first we had no idea what we would do. Michael and I are both from Perth, but have spent a large portion of our lives in other countries. I've spent just as long living in England as Australia, and already feel a bit torn between two countries. Though, at the same time, if we could pick absolutely anywhere to live, we would probably go with British Columbia in Canada. Unfortunately, it's extremely difficult to get sponsorship and move there permanently, so with the assumption that New Zealand is supposed to be similar to Canada, this was the first place we picked to move to. This also meant I didn't have to choose between my two homes, England and Australia. We eventually rethought this idea and decided to give England a go – mostly due to family, and being located in Europe.
So on June 13th 2017 Michael and I will be moving to the UK to start our next adventure. To some this may not seem like much of an adventure, but it's all about perspective, and to us a life of stability and routine, really will be an adventure.
Will we cycle tour again?
Absolutely! Cycle touring is still our preferred way of travelling, and we've already discussed plans to take a week or two cycle trip around Norway and Iceland, and within the UK.
No, we won't be planning any future long term cycle trip. I think we've said goodbye to our budget/ long term travel days. We hope that by living a more stable life, and taking only the occasional cycle trip, our lives will rebalance, and we will become more excited about travel and appreciate our future trips a bit more.
What does this mean for Cycle Trekkers?
Nothing. Just because we don't want to be long term cycle touring, it doesn't mean we won't still cycle tour, so Cycle trekkers will continue as usual. We'll continue to add our cycle blogs, gear reviews, eco-discoveries and anything else bicycle related, to the site.
Long term cycle touring is a bit glorified, just like budget travelling is, and I'm sure there are plenty of people out there that think Michael and I have the easiest life in the world. Well, no actually it's bloody hard work and very exhausting. Usually the rewards of beautiful sights and new experiences is enough to make it worth while, but when you're not excited by this like you used to be, then you start to wonder what is the point – why are we still cycling? So that's why we don't want to be long term cycle touring anymore, and why we are ending our trip early. Have you every experienced something similar, and ended a tour early? Or are you set on exploring the world by bicycle for the rest of your life? Would love to hear about your experience.