OVERVIEW:
I was asked to review the Ruzer 'Neutron Mini Blast' pump at a very convenient time for me as I was in the market for a nice compact trail pump to take on bikepacking and mtb outings that wasn't going to weigh me down and take up much space on my bike or in my bags….this most definitely fit the bill!
My topeak mini morph pump is great and very practical for commuting and longer tours, but for overnighters and quick blasts around the local woods on my trail bike I felt like it was overkill and needed (wanted) something even smaller and more discreet, but I got even more than that with this mighty little pump!
Full disclosure, the Ruzer team sent this bad boy to me to test and keep after reviewing, I always try and be honest in my reviews so if anything isn't up to scratch I would actually point it out in the review though.
SPECS:
Length (closed) 17cm (6.9")
Length (fully extended) 27cm (10.6")
Weight 95g (3.35 oz.)
Max PSI 230
Valve type Presta/Schrader/Dunlop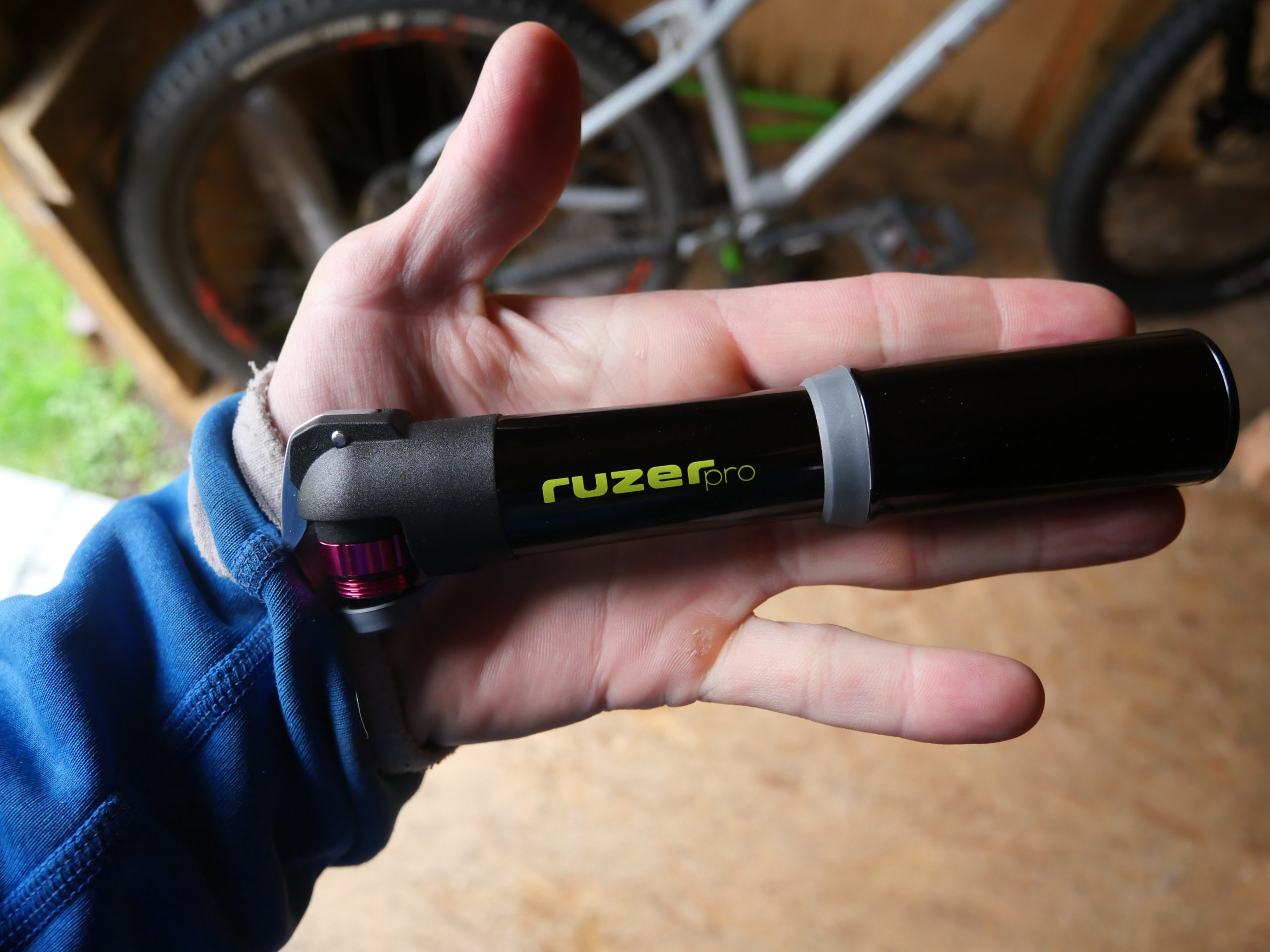 PROS:
Extremely light
Streamlined so no hose or anything sticking out to snag
Metal construction feels very durable and sturdy
Super easy to switch between Schrader and presta
Surprisingly powerful!
Very short so easily fits in jersey pocket or top tube bag
Comes with lightweight well designed attachment bracket
Solid metal locking mechanism for attaching to valve
Very discreet in all black wouldn't stand out on your frame
CONS:
Small size means slightly awkward to grip when pumping
Rubber seal to hold handle in place tends to slip away from handle slightly
May make a rattling noise on bumps from metal valve locking mechanism
DESIGN AND FUNCIONALITY:
I was very impressed by the look of the Ruzer Neutron mini blast when I took it out of the package; it looks and feels satisfyingly solid for such a tiny pump. It's super light but the weight feels just right, not like some plastic mini pumps or even other aluminum pumps that feel flimsy as if they're going to fall apart in your hands at the first use.
It is very sleek and low profile and wouldn't mess up the look of your bike if you choose to attach it to the frame with the provided bracket. Because it is such a sleek and simple design it would also slip perfectly into a jersey pocket and be easily retrieved without the risk of a hose snagging in the pocket.
I carried the Ruzer Neutron Mini Blast around on my commute to work and tried it in several different spots, each of which it fit without a battle to squeeze it into which was nice for a change. Easily slipped into the top mesh pocket of my Blackburn top tube bag, into my alpkit stem cell bag and when trail riding it disappeared into my Dakine backpack's built in pump pocket. Very satisfied with how versatile it is and would feel confident taking it out on longer rides.
When I first received it I thought it would be a great emergency pump for trails and day rides, but due to the small size didn't think it would really be powerful enough to take on extended bikepacking trips, but that changed when I had to fix a flat on my bikepacking rig that I have been using to commute to work recently.
My genesis longitude is currently set up with 2.8' onza canis tyres on WTB 27.5 scraper rims which I have found an absolute nightmare to get tyres on and off of and even getting them to seat properly has taken some pretty vigorous pumping to use the inner tube to push the tyre back into place after installing. I didn't hold much hope that the Ruzer Neutron mini would have the pumping power to shift the tyre back into place on the insanely tight scraper rims….but I was wrong! The little Ruzer handled it with no issues at all, if anything I actually found it easier than using my topeak mini pump and my larger unbranded pump that has a flip out foot stand and handle that can fold out to get more grip. This was a big plus for me and changed the way I thought about it as I could now see it as a very viable option for bikepacking as I felt confident that I could be out in the middle of nowhere and it would have what it takes to give me any pressure I needed to force a tyre to sit on the rim properly. 
Cool!! A tiny pump that actually has some guts!!
My only quibble with the pump is due to it's petite size it can be a bit awkward gripping it when pumping, but this is true for pretty much all pumps of this size so you kind of have to expect it for any pump of these tiny proportions. The flipside of this is that because it actually has efficient pumping power it can get the job done surprisingly quickly so you won't actually be holding it for too long…unless you own a tricycle and get 3 flats at once I guess.
DURABILITY:
I have only been trying the Ruzer Neutron mini blast out for a couple of weeks so I can't speak too much about the long term durability of this little fella, but everything does feel well constructed and solid. One of the most impressive features would have to be the solid metal valve connecter that screws into the head and is reversible depending if you're using Schrader or presta. Some other dual use pumps seem to use fiddly little rubber adaptors that you have to pry out and flip around and hope you don't drop it in long grass or mud and lose when you trying to use it on the trail so I was quite happy to see this solid metal one piece construction of the adaptor. I was also very impressed with how quick and easy it is to unscrew the head and change what valve type you need.
SUMMARY:
There is definitely a lot more to this pump than I was expecting. I kind of had it in my head that it would arrive and be something that would be decent for an emergency trail pump mountain biking or good for a road ride where you're trying to keep weight down, but maybe not as a 'serious' pump for longer trips or commuting. I was wrong though and I'm happy about it!
This will now be my go to pump for all types of riding, but particularly for my bikepacking adventures (if I get off my arse and organize one soon) as it is so tiny I will always be able to find a gap somewhere in my gear to squeeze it in, but can also feel confident that if I need it, it actually has what it takes to stand up to the rigors of a bike tour.
The pump is a available at https://ruzer.co.uk/product/neutron-mini-blast-pump-fits-presta-schrader-reversible-valve-230-psi-15-7-bar-portable-compact-easy-for-mtb-road-hybrid/