It all happened so quickly!
One second we were cycle tourists, where the most important things in our lives were our bikes, our panniers, our camping stuff and food and water. The next second we were just backpackers. We no longer owned bikes and were throwing out our tattered panniers and old reused ziplock bags, something that once seemed so important to us. It was a strange feeling, like losing a limb. It all just felt so wrong and so surreal – the transition from cyclist to backpacker!
Rules are really just guidelines!
We reorganised our bags and made our way, via public bus, to the train station, to catch the 2 day train to Chengdu. The one place in China I've always wanted to visit. We didn't have any problems with our bags during the entire cycle trip until we reached the train station at Urumqi. For those of you that don't know, there was a terrorist attack at the train station in Urumqi about 2 years ago, so security there is quite high.
After going through several check points and security screenings we were asked to step aside and have our bags searched. This resulted in them removing our camping knives, my Swiss army knife, our bike multitools and our camp gas. They tried to explain to us in Chinese that these items could not be taken on the train and there was no check in luggage. I loudly protested in English, obviously drawing the attention of others and soon we had a crowd. Eventually we did come to an agreement. I got to keep the knives, they got to keep our camping gas. A fair, but rather strange agreement, which is just one example of the flexibility of laws and rules in China.
Riding the trains in China
We were in the economy sleeper, which had no door and slept 6 people. Unfortunately for us, (like in the whole of China) smoking was permitted, though admittedly only at the far end of the train. It didn't take long for the smoke to whiff down the entire carriage.
After spending 7 months traveling and being 'on show.' Having limited privacy to people, whom think you are an 'exotic species,' you might think we would be used to all the attention by now, however, our patience had worn thin. We seemed to draw the attention of people wherever we went. We assumed this would stop after getting rid of the bikes, but we were wrong. It wasn't long before we had people taking sneaky (or not so sneaky) photos and video of us. Not something you want when you're trying to sleep. Overall people seemed quite friendly and attempted to make conversation with us. Though, all we really craved with some privacy and some normality.
The 2 days on the sleeper train dragged. We feasted on pot noodles (China knows how to do a really good pot noodle box) and snacks that we picked up from the supermarket before catching the train. A healthy assortment of packaged dry cakes, nuts and freeze wrapped foods – extremely healthy!
Chengdu: the transition from cyclist to backpacker, complete!
Finally we made it to Chengdu! Stinking like cigarette smoke and feeling more drained than after a week of solid cycling. Chengdu was a paradise compared to the polluted city of Urumqi. It was a modern, pretty and unpolluted (in Chinese standards) city. There were lots of parks, Western and even vegetarian restaurants and it was very easy to navigate around without the bikes. This was just what we needed.
I can honestly say, I loved Chengdu. We visited the pandas, explore the ancient towns, the markets and of course the restaurants. We also decided to visit the nearby Emei Shan National Park – a Buddhist monastery mountain/ jungle national park, which was extremely touristic and quite expensive (as was everything related to tourism in China). Finally, we got to do some hiking! Though hiking up ancient stairs for hours on end isn't quite the same as hiking on a mountain trail. It was still an awesome place, which I definitely recommend. We were feeling happy for the transition from cyclist to backpacker, though we still felt a bit 'lost.'
From Emei Shan we visited Leshan and the giant Buddha, before jumping back on another 2 night sleeper train to Beijing – our final destination.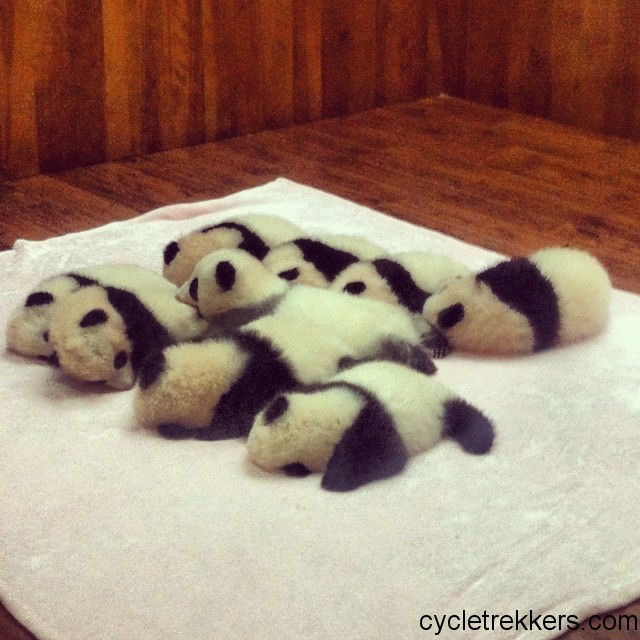 Our final destination: Beijing!
I was happy to finally arrive in Beijing. We made our way to our hotel, and I couldn't help but reflect on my life since the last time I was in China. 5 years has passed and a lot had happened since then. I definitely couldn't have predicted any of it, but that's life. Wouldn't it be boring if you knew where you'd be in 5 or 10 years?
By chance, my brother, Michael (yes, another Michael), just happened to be in Beijing for work at the same time as us. If you know my brother then it wouldn't surprise you that he just randomly turned up a day early at our hotel, unannounced and with no money to pay for the cab. Luckily for him (and he does tend to be quite lucky) we just happened to be at the hotel when he arrived.
We had a great few days catching up, eating lots of food and exploring the sites of Beijing and the surroundings. Though, I would be lying if I said I wasn't tired. Really I was just looking forward to getting home and back to a 'normal' life.
The small things in life
Even after a few weeks of living as normal backpackers, we were still adjusting to the simple things in life, such as having access to toilets, and for that matter, western toilets, as well as having access to water, shops, food, internet, beds. We were slowly making the transition from cyclist to backpacker. All the things that most people take for granted in everyday life. Even meeting people that spoke English seemed strange, and even stranger was seeing other Western tourists. It was hard to believe that just over a week ago we were cycling in the middle of the desert. That life already seemed a million miles away.
On top of tha was returning to a world of materialism. After living with the essentials for so long. The 'luxury' items just seemed so pointless. The other thing that got me was the amount of waste. Waste itself is a 'luxury' item and we had been living in conditions that meant we limited our waste. Nothing from food, to plastic bags, to clothes was wasted. We made everything last (though admittedly packaging from food was still waste – except for our recycled bowls that were actually chocolate spread containers). We didn't do all this to save money, but rather because we didn't know when we could get more of something, or replace the old one. So just made do with what we had. I guess the transition from cyclist to backpacker is not an easy one, especially when factoring in the culture shock and readjustments.
Even as I try and explain how surreal the entire transition was. I'm a bit lost for words. Unless you experience first hand the transition from cyclist to backpacker, I don't think someone can truly understand. The transition isn't over yet. Returning to 'normality' aka Australian life is the next. step.